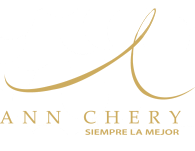 Ann Chery Shorts Indira 5155 NEW MODEL !
Characteristics
High-quality powernet with lycra
High compression
Beautiful finish that neither pinches nor marks!
Lift the buttocks
Flat stomach, small waist
Cocoa
If you want a flat stomach, tight legs and a slim waist but at the same time give your buttocks a boost, then this Ann Chery Butt Lifter shorts is ideal. 
Made from Powernet a well known high quality fiber with high compression capacities and permeable to oxygen , making it a very fine fabric to wear. 
A perfect 'sculpting' and lifting shorts for a sexy, self confident look !
What size shorts should I take?
Pay attention ! The Ann Chery Indira Shorts is  tight. See the size guide below for a perfectly fitting push-up short.

Series: Ann Chery Indira Shorts 5155
Colour Cocoa
M : 34/36     L : 38/40    XL : 42/44