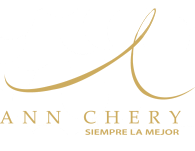 Ann Chery is the #1 premium Colombian brand for Waist Trainers and Colombian Shapewear. The brand Ann Chery has been around for 34 years and is renowned amongst South-American women. 
Traits Ann Chery Powernet Body Titi - Model 1044 
100% high grade lycra - powernet / cotton lining

High Compression

Front zipper clousure

Adjustable & removable straps

Discrete seams, invisible under clothing

Open crotch for bathroom use

Made in Colombia / hecho en Colombia
Results
Visibly reduces inches in waistline, abdomen, hips, thighs and back

Round hips, extra firmness upper legs

Optical breast enhancement

Improved posture

Reduced back pains
This Body has removable straps you can adjust or attach freely. With the zipper in the front you can easily close this corrective body of Ann Chery by yourself. Furthermore, the discrete opening in the crotch is comfortable for toilet visits; no dress-up parties in the small bathroom anymore ! Create a beautiful, firm silhouette and lose in a blink of an eye a couple of pounds around your waist, stomach, thighs and back. 
Made of power net with lycra, a special and particular qualitative fiber that keeps your body tense, but also keeps it oxygenated, which makes it very pleasantly to wear, and gives you optimal freedom of movement with your perfect silhouette, even during hot weather conditions. 
The soft edges definitely won't give you a tight feeling or leave marks. Premium quality that guarantees an elegant, classy, sexy look ! 

Which size do I need?
Use the below size chart to decide which size you should purchase. Don't trust your regular clothing size. It is very important that you measure yourself, Colombian sizes are smaller than European sizes !