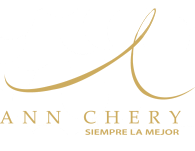 2038 METALLIC BLACK Latex 2-hooks waist trainer, short model !
The 'Metallic black' is a waist trainer from the exclusive collection. He has all the features of the classic latex waist trainer but as an extra a very nice metal look on the outside which creates a light brilliance, fashionable and stylish. Moreover, because of its soft, smooth surface, this waist trainer is extremely suitable to wear under your clothes. Many ladies choose this stylish waist trainer also for sports because he can be seen and is beautiful on a beautiful sports outfit! The 2-Hooks model is shorter as the 3 - hooks  : 29/30 cm  front.
Ann Chery is the # 1 premium Colombian brand in the field of Waist Trainers and Colombian Shapewear . The Ann Chery brand has been around for 34 years and is highly regarded by South American women!

All Ann Chery Waist Trainer and Shapewear products are made in Colombia (hecho and Colombia).

Lose centimeters around your waist with the Latex Waist Trainer from the premium brand Ann Chery . The Ann Chery Latex 'Metallic Black' 2-hooks Waist Trainer pulls your waist tight and gives you a beautiful hourglass figure as soon as you have the Waist Trainer. The Ann Chery Waist Trainer is made of medical grade latex, which is the highest quality latex that exists and helps with detoxification, blood circulation and fat burning. These Colombian waist trainers and body shapers are patented.
Moreover, they ensure that you immediately appear slimmer. Wear the Waist Trainer under every outfit; your work clothes or the perfect dress. The Ann Chery Waist Trainer has invisible seams, so it is almost impossible to spot the Waist Trainer under your clothes. The Waist Trainer is therefore perfect as corrective underwear .
The 2-hooks system allows different levels of compression to be possible. Choose the compression that works best for your body by adjusting the hooks of the correcting body where necessary. The Waist Trainer gives you a straight position and increases your bosom. You will get a good dose of self-confidence and feel super sexy every time you have the Waist Trainer.
Results
Flat belly
Visibly narrower waist; up to 3 sizes smaller!
Round hips
Optically larger breasts
Improved attitude / Straight posture
Reduced back pain
Stimulation of fat burning
Characteristics
100% medical latex
Stylish 'metallic' look for this 'exclusive collection'
Cotton lining
2-hook system
Short model : 29/30 cm Front
Discrete seams invisible under your clothing
Made in Colombia / Hecho and Colombia - patented.
What size do I need?
Use the size chart below to determine which size you should purchase. Do not assume your regular clothing size! It is important that you first measure yourself before you buy a Waist Trainer .