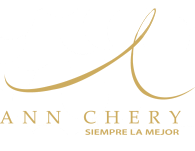 Ann Chery is the #1 premium Waist Trainer brand from Colombia. Ann Chery has been a household name amongst Latina women for many years.

All Waist Trainers are made in Colombia (hecho en Colombia).
100%high-quality natural latex
Cotton inner lining
Three-hooks and eye closure to fit your size
Back and midsection control
Increase thermal activity
High compression
Visible reduced waist line ( 2-3 inches)
Excellent support to corrects your posture
Your body instantly looks a lot slimmer at your waist and stomach when you wear your waist trainer vest for the first time. Besides that everything fits immediately. The slim down vests are comfortable and stimulate fat burning and sweats impurities out of your body. When you've lost some fat after a while you can use the handy 2-hook system to tighten it more. 
Women that have problems with their lower or upper back are advised to use a waist trainer vest. These vests give you a better position because of the suspenders and give additional support to the back and the side of the breasts.
Which size do I need?
Check out the Ann Chery size chart so that you know exactly which size to get. Ordering a Waist Trainer that is too big or too small is unflattering for your figure and won't get you the desired results. Make sure you get the right size so that you are well on your way to get the hourglass figure you always wanted.