| | |
| --- | --- |
| Article number: | 7707142206811 |
| Availability: | In stock |
| Delivery time: | 4 days |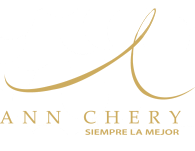 Ann Chery is the #1 premium Waist Trainer brand from Colombia. Ann Chery has been a household name amongst Latina women for many years.

All Waist Trainers are made in Colombia (hecho en Colombia).
The Ann Chery Waist Trainer Vest is as fantastic as the Ann Chery Classic Latex Waist Trainer and then some! The Ann Chery Vest covers your complete back and is thus ideal for women who have back fat. Lose centimeters around your waist and back and improve your posture with this fantastic corset.
When you are wearing the Ann Chery Waist Trainer Vest, you will see that your belly looks flatter and your waist is slimmed down. The Waist Trainer Vest gives you a fantastic figure. Something we feel every woman deserves. Feel sexy and radiate confidence with the Waist Trainer Vest (Chaleco) under your clothes. The best part are the flat seams who ensure that nobody actually sees that you are wearing Colombian Shapewear.
The high grade latex in the Waist Shaper gives you good back support and improves your posture. If you a type of way about your posture or have a bit of a hunched walk, the Ann Chery Waist Trainer Vest is your best option. The cotton lining ensures that the Ann Chery Waist Trainer Vest is comfortable and is easy to wear for a whole day.
You can use the Waist Trainer Vest as shapewear, but also to lose weight. Do you want to lose weight with the help of the Waist Trainer? Wear the Waist Trainer for at least 4 weeks between 8 - 10 hours a day for maximum results.
Results

Which size do I need?
Check out the Ann Chery size chart so that you know exactly which size to get. Ordering a Waist Trainer that is too big or too small is unflattering for your figure and won't get you the desired results. Make sure you get the right size so that you are well on your way to get the hourglass figure you always wanted.