| | |
| --- | --- |
| Article number: | 8719324171441 |
| Availability: | In stock |
| Delivery time: | 4 days |



Super Promo of a Top Product! The full latex vest from Lafaya: we sell the last sizes because this vest was replaced by the same model but where the latex is sandwiched between two layers of cotton / spandex.In this vest the Latex outer layer is visible with a fine cotton lining.
The material is visible on the main photo, additional photographs are of the new model in the new material - the model is the same.

Besides the normal black Waist Trainer of latex we also have the Waist Trainer Vest for extra strength! This body shaper is perfect to tackle your stomach and back next to your waist. The Waist Trainer Vest gives just that extra bit of strength that some women want when wearing a Waist Trainer Corset . In addition, the Waist Trainer Vest fits higher on the back, so if you suffer from fat on your back, the Waist Trainer vest is a great solution.
Return or exchange   is possible!
The Waist Trainer is incredibly comfortable and conforms to your body shapes, so you can wear the waist trainer vest unobtrusively under your clothes. This is due to the new material consisting of 3 layers. The latex is contained between the light cotton lining and the outer layer of cotton and spandex. The 3-hooks system ensures that the Waist Trainer Vest is adjustable. Once the centimeters fly off you can put the waist trainer vest on a tighter position, so you can use your Waist Trainer Vest Corset for a long time.
If you do not want to use the Colombian Waist Trainer Vest to lose weight, you can also use the Waist Trainer as corrective underwear, because the outer layer is smooth and supple. The Waist Trainer Vest gives a nice silhouette under your clothes or even under your wedding dress.
There are incredibly good results with the Waist Trainer Vest and many of you have already had positive experiences with the Waist Trainer.
View our size chart for a perfect fitting waist trainer !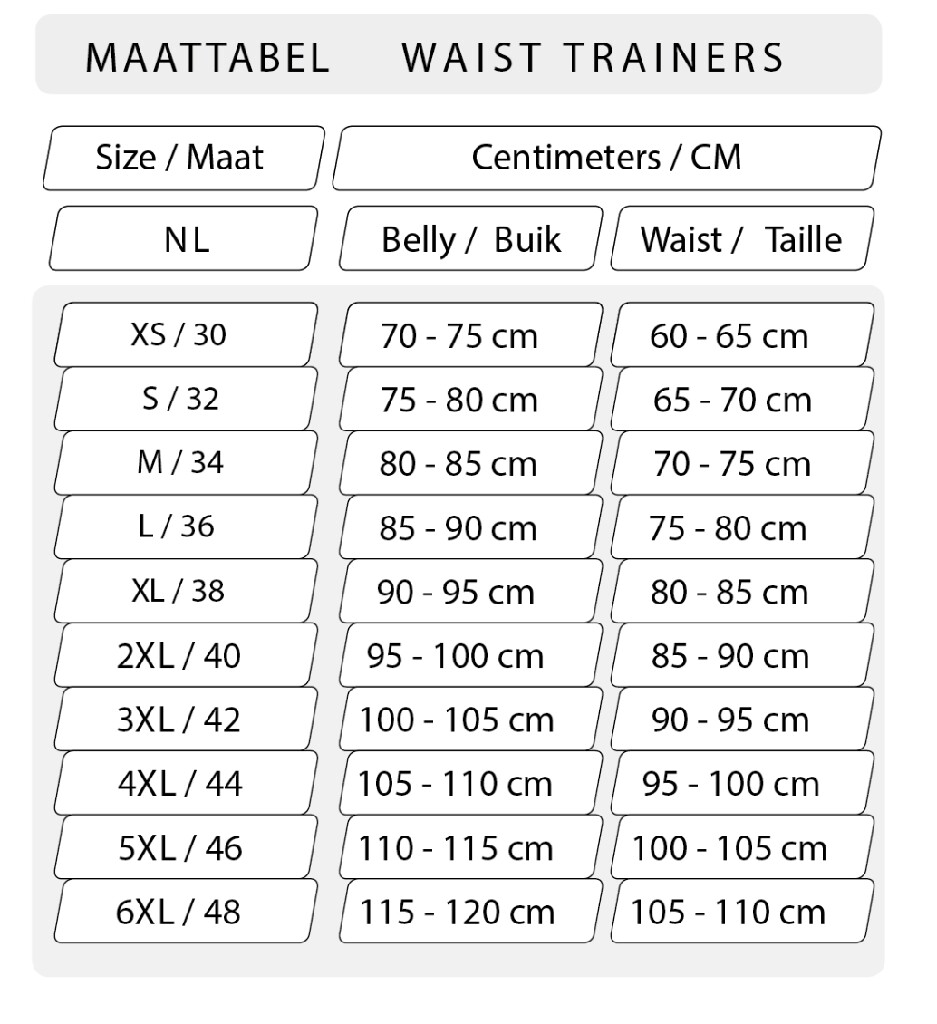 Check out our Latex Waist Trainers in beige , blue and pink .