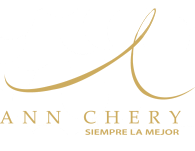 Ann Chery is the #1 premium Colombian brand for Waist Trainers and Colombian Shapewear. The brand Ann Chery has been around for 34 years and is renowned amongst South-American women. 
NEW !   Ann Chery Secret Line Body - Model 1587  NEW !
Medium compression line elaborated in spandex
Ideal for figure molding
Localized control system
Seamless for mark prevention
Adjustable and removable straps
soft textures
High sensuality and invisible finishing
discrete open crotch
Made in Colombia
This Medium leg Body has removable straps you can adjust or attach freely.  Localized and moderate control in the abdomen, waist and hip . Furthermore, the discrete opening in the crotch is comfortable for toilet visits; no dress-up parties in the small bathroom anymore ! Create a beautiful silhouette and lose in a blink of an eye a couple of pounds around your waist, stomach, thighs and back. 
Premium quality that guarantees an elegant, classy, sexy look ! 

Which size do I need?
Use the below size chart to decide which size you should purchase. Don't trust your regular clothing size. It is very important that you measure yourself, Colombian sizes are smaller than European sizes !